CCTV Surveillance System Installation Process.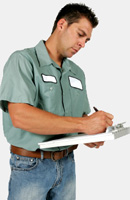 1. Initial Contact
The first step towards installation of your surveillance system is you contacting us. Please fill out our estimete form to give us a better understanding of your needs, your timeline, and your project scope.

2. Communication of Necessities, Goals, & Requirements
After you have initially contacted us, we will contact you via phone to develop a clear understanding of your necessities, goals and requirements. This step is vital to designing and implementing an effective surveillance system and important for project planning and development of a quotation for your project. We are interested in finding out your reason for a surveillance system, what you plan to accomplish, the scale and scope of your project, and any concerns you may have.

3. Schedule Site Visit and Site Evaluation
We will schedule a site visit with you once we have called you and identified your constraints and requirements. Meeting & Walk-through with customer to Determination of existing infrastructure (lighting, electricity, data cabling, wireless signals, acoustics, building structures, land characteristics). Determination of any conflicting construction/development. Assessment for project improvements

4. Quotation
With a good understanding of your needs, a firm set of requirements, a thorough site survey to work from, and our company's expertise, we prepare a provisional quotation for you. This quote is comprised of a full delineation of all labor and materials required to complete your surveillance system installation with their corresponding costs. This quote is your chance to evaluate the surveillance system that has been designed for you and determine if the price of the system is acceptable. If there are any issues or concerns with the surveillance system, this is the best time to address them and revise the quote accordingly.

5. Invoicing
Once you have accepted our quote, we invoice you according to the labor and material costs from the quote. A minimum of 50% of the total amount of your invoice is due before commencement of your surveillance system installation, with the remainder due at completion. Any additional cost due to changes to the initial quotation like installing additional cameras etc, have to be paid in full before we proceed with the changes.

6. Pre-Construction Meeting
Before we begin installation of your surveillance system, we hold a pre-construction meeting with any decision-makers or managers to be involved or affected by the process. The pre-construction meeting is where we discuss hours of installation, the process of installation, address any concerns, and plan any necessary accommodations. Depending on the scale and scope of the project, project plans and site maps with camera mounting points marked will be distributed at this meeting.

7. Installation
Your surveillance system installation consists of tree phases:
Infrastructure Phase - Conduit and wiring installation occurs in this phase.
Equipment Installation Phase - In this phase, any and all equipment (cameras, antennas, DVR / NVR, etc.) are installed.
Configuration & Positioning Phase - This is the final phase where any camera positioning, configuration of devices, and final touches occur.

8. Installation Approval
Once installation has been completed, the entire system and its functionality is tested and evaluated to ensure compliance with our policies and workmanship quality standards and your expectations. Once our project manager in charge of your installation approves the surveillance system, it is your turn to inspect and approve the system. Upon approval of the system, we deem the project complete and require the remaining balance due for your invoice. We appreciate any feedback of your surveillance system and your installation experience, please share your comments with us.