RECORDERS

DVR - Traditional / Analog Digital Video Recorder
A digital video recorder (DVR) is widely used video recorder for video footage recording. Since DVRs have very mature technology and affordable price, itís one of major used security recorder in security & protection industry. Traditional DVR receives the uncompressed video footage from analogue cctv cameras, then recording to hard disc drivers (HDDs). DVR has advantages of easy to install and offering cost effective solution. Unfortunately, it has limited recording capabilities, the maximum recording resolution is 480p (960x480) resolution. A DVR and analogue cameras system is very suitable for small video surveillance applications.
NVR - Network Video Recorder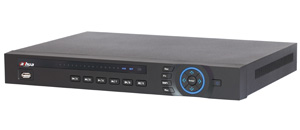 Network video recorder (NVR) is advanced video recorder which is designed to record compressed video footage to hard disk drivers (HDD). The NVR can receive the video/images or even audio through an Ethernet network (cat5/cat6) from IP cameras. Typically, NVR can support high definition recording including 1280x720 (720P) and 1920x1080 (1080P), some advanced NVRs with capability to record 3 megapixel and 5 megapixel resolutions for ultra HD video surveillance applications. Therefore, when compared to a DVR and analogue cameras system, an NVR and IP cameras is more expensive, however, it provides much higher resolution and superior image qualities. Moreover, without extra audio cable, the NVR can do two-way communication which can be used for audio broadcasting, as well as performing remotely configuration to the IP cameras. You may find some PoE NVRs which allows IP cameras receive power supply from NVR through single Ethernet cable.
HD-SDI DVR
High Definition Serial Digital Interface (HD-SDI) is another standard interface which complied with SMPTE 292M standard. The HD-SDI DVR can be used as video footage recorder for HD-SDI cameras. With the compliance of SMPTE (Society of Motion Picture and Television Engineers) 292M standard, the camera can deliver uncompressed 720P or 1080P resolution video over at least 100 meters using standard RG59 coaxial cable. Hence the traditional CCTV system is using same standard coaxial cable for video transmission, this allows user to upgrade their existing CCTV systems with HD-SDI equipment without having to re-install cables. However, the HD-SDI with its own standard, that means the HD-SDI DVR doesn't support traditional analogue cctv cameras. Due to the hardware limitations, only 4 channels and 8 channels HD-SDI DVRs are available in the market, itís hard to find the 16CH or even 32CH HD-SDI DVR.
HD-CVI DVR
HD-CVI is the abbreviation of High Definition Composite Video Interface, which is in-house technology from Dahua. This is a new technology and standard which provide another alternative for high definition video surveillance. The HD-CVI technology can achieve 720P and 1080P analogue video resolution which solved the resolution limit to analogue CCTV security industry for many years. Currently, the highest resolution is 480p (960x480) for analogue CCTV cameras. Besides the high resolution, the connection between HD-CVI cameras and HD-CVI DVRs can be up to 1600 feet away without visible degradation in video quality.
HVR - hybrid video recorder
A hybrid video recorder (HVR) is another type of video recorder which is used to record video from both analogue and digital formats. It can work with analogue cctv cameras and IP cameras. Therefore it has both analogue BNC inputs and RJ45 internet interface for working with IP cameras. HVR can bring flexibility to your video surveillance systems, you can use your existing analogue security cameras, at same time expanding your system to IP system through using HVRs and IP cameras. That means you can keep the standard quality system while expanding the system with mega pixel resolution IP cameras.
Cameras types
| | | | | | | | | |
| --- | --- | --- | --- | --- | --- | --- | --- | --- |
| | Box or brick indoor camera | | bullet in/out door camera | | dome in/out door camera | | PTZ Camera - Pan, Tilt, zoom | |
Cameras optional features
Night Vision: These night-vision cameras have the ability to see images in pitch black conditions using IR LEDs.
Outdoor: The key to outdoor cameras is the housing itself, which must be impenetrable to moisture, insects, dust and other elements
Varifocal: A camera with a varifocal lens allows the operator to zoom in or out while still maintaining focus on the image.
Wireless: Not all wireless cameras are IP-based. Some wireless cameras can use alternative modes of wireless transmission.
Vandal-proof: Cameras are built to withstand vandalism and tampering attempts. These rugged security cameras stand up to blows and other threats.
POE: Power over Ethernet (PoE) enables power to be provided to the network camera using the same cable as that used for network connection.
Build in DVR: Video recording directly on internal SD memory card build into camera, when main system is down recording continuous.